The winter months can closet you inside due to harsh weather. The frigid winds, torrential rain and snowy conditions hardly make it easy to accomplish the outdoor projects on your to do list. Instead, take this opportunity to get some projects done inside. There's no reason the crummy weather should stop you there. Here are some ideas to spark your imagination.
Repaint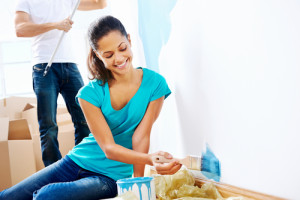 Tired of those off-white walls? A new tone can boost your mood. Make sure a window is cracked when you paint so the room doesn't fill with fumes. Also, shop around to get low VOC (volatile organic compound) paint to minimize your exposure to harsh toxins.
Brighten Your House
New lamps and light fixtures don't only update the style of your home, but they can also improve your mood. A space that is well lit can drive away those winter blues that sometimes creep in. While you update your lights, switch to LED bulbs, which save energy as well.
If you like themes, you might be surprised that steampunk, a mix of vintage and industrial, has grown in popularity and is a great way to add a unique style to your home.
Add Home Security
While home security systems were once only for the rich, with the advancement of technology, home security cameras are now simple to use and affordable for most people. For instance, with Lorex home security cameras, there are no costly installation fees or monthly subscriptions. In fact, Lorex cameras are wireless and come with an easy setup guide. These cameras link with your home's Wi-Fi network, and with the corresponding mobile app, you can keep an eye on your home no matter where you are.
Update the Thermostat
The days of timed thermostats are over. Install a smart thermostat that lets you control the temperature of your house wherever you are. When you leave your home, adjust your thermostat using your smartphone or mobile device. Before you return, raise the temperature of your home so that it's nice and toasty upon your arrival, a welcome refuge from the blustery weather outside.
Many smart thermostats keep track of your schedule and learn when you typically leave the house and when you come home. They automatically copy this pattern adjusting the temperature as you come and go. Smart thermostats aren't only great tools that keep your home warm when you want it to be and cool when no one is home, they offer great energy savings, minimizing your carbon footprint and saving money on energy expenses.
Tune up Your Heat Center
Since we're on the topic of heat centers and winter typically drives up the energy bill, now is a great time for a tuneup for your heat center. Thirty percent of a home's energy is used by the furnace or central heating unit, according to Energy.gov. Replace the filters before the cold season starts and then every few months when you run the furnace regularly. Keep in mind, the price of air filters is often indicative of their quality. A higher quality filter can provide better air quality throughout your home.